GOURI is a CESABP TECHNOLOGY
(Collagen Enabled Solubilized Active and Biodegradable Polymer Technology)
by DEXEVO INC Laboratory

This patented DEXEVO CESABP technology allows the regeneration of the skin's natural collagen and rejuvenates your skin without the use of microparticles. It is totally different from other existing products which are not entirely liquid. GOURI is the 1st PCL liquid type injectable. Gouri can diffuse all over the face.
GOURI is the 1st PCL liquid type injectable. Gouri can diffuse all over the face.
GOURI rejuvenates our skin by promoting collagen growth all over the face. Spreading naturally over the entire face, GOURI generates collagen synthesis which has diminished due to skin aging.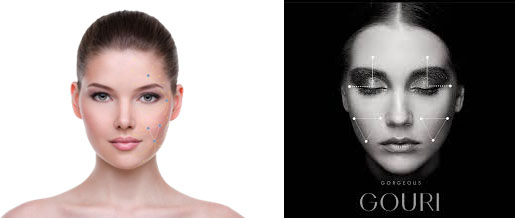 The three main characteristics of GOURI make it a fundamental anti-aging product.
Spreadability: GOURI spreads naturally and regenerates collagen all over the face.
Easy to use: GOURI only needs 10 injection points for the whole face
Natural & Lasting Improvements: GOURI restores the rate of collagen synthesis that has diminished due to skin aging and rejuvenates the skin, making it look younger and healthier.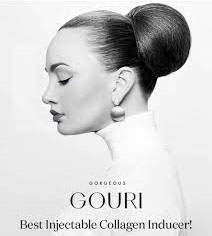 For optimal results, 3 sessions are recommended, 4 weeks apart. After the 3rd session, 1 or 2 additional sessions can be performed depending on the patient's skin condition at 3-6 month intervals to maintain the collagen level.
We recommend an interval of one month before and after the injection in the same area of other cross-linked fillers, it means long-lasting fillers. One of the features of GOURI is its compatibility with other products. . It can be applied together with GOURI or Botox or a skinbooster.
The first visual results after the injection appear after 1 to 2 weeks, the time to induce neocollagenesis.
The effects of GOURI generally persist for 6 to 12 months. It depends on the metabolism of the patients.